Forever Hold Your Peace
Halifax, NS, Canada 2004
1 min.
16mm Color Hand Scratched Sound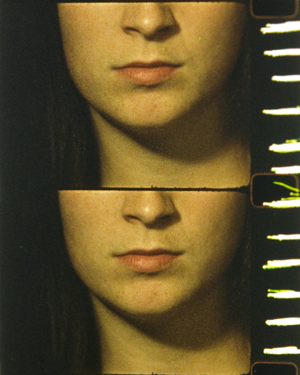 Synopsis
Live actions with hand scratched sound, this film presents the frustration of feeling the need to speak with nothing to say. Filmed by the artist's husband at the time, the film also relates to subtle complexities of communication within marriage.
Production Credits
Directed, and Performed by: Amanda Dawn Chritise
Assisted by Andrew Connolly
Screening History
(note: I have not kept good records of where my films have screened when sent out by my distributors)
2004 "AFCOOP Annual Screening" Halifax, NS, Canada
2005 "Late Night Film Empoirium #1" Cineworks Studio, Van. BC Canada;
2009 "Dividing Roadmaps by Timezones", Canadian Film Institute, Ottawa, Canada
2009 "Dividing Roadmaps by Timezones", Vogue Cinema, Sackville, Canada
2010 "Dividing Roadmaps by Timezones", HIFF, Halifax, Canada
2010 "Dividing Roadmaps by Timezones", Winnipeg Cinematheque, Canada
Distributors
Canadian Filmmaker's Distribution Centre (Toronto, CA)