Turning
Halifax, NS, Canada 2004
9 min. 324 feet (97 metres)
16mm BW handprocessed
silent (no dialogue, no subtitles)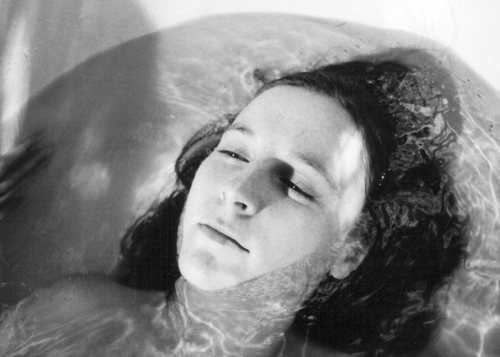 Synopsis
Throughout the journey, meanings that symbols once held for us shift and change as black and white blend to form grey. We see ourselves reflected in the world around us and the world around us envelops us. Things that were once threatening become comforting arms of solace while things that were once sanctuaries threaten to drown us. Water has the power to cleanse as well as the power to drown while the forest is both protective and foreboding.
Production Credits
Directed, and Performed by: Amanda Dawn Christie
Screening History
(note: I have not kept good records of where my films have screened when sent out by my distributors)
2004 "Quiet Triptych" (projected onto a 2100 pound wall of ice) Halifax, NS, Canada
2005 "Late Night Film Emporium #1" Cineworks, Van. BC Canada;
2009 "Leeds International Film Festival", Leeds, England
2009 "Dividing Roadmaps by Timezones", Canadian Film Institute, Ottawa, Canada
2009 "Dividing Roadmaps by Timezones", Vogue Cinema, Sackville, Canada
2010 "Dividing Roadmaps by Timezones", HIFF, Halifax, Canada
2010 "Dividing Roadmaps by Timezones", Winnipeg Cinematheque, Canada
Distributors
Lightcone (Paris, FR)
Canadian Filmmaker's Distribution Centre (Toronto, CA)